About
The 49th Congress and General Assembly of the International Academy of Ceramics will be held in Rovaniemi in 2021. This meeting will welcome an anticipated 300-340 participants from all over the world who shall gather and exchange. They will be introduced to the local arts and cultural scene through a programme of events arranged throughout the Congress.

---


Theme
The overall theme of the Rovaniemi/Posio Congress is entitled "On the Edge".  

The theme reflects the arctic location of Finland on the edge of Europe, as well as the other regions on the edge of the world; a vision from inside out to outside in.
 
The theme encourages discussions and interpretations that address both the mainstreams and margins within ceramic art, design and crafts. The theme "On the Edge" acknowledges the diverse discussions that currently take place in the field of ceramics in communities of artists, researchers and other actors.
 
The theme provides a general framework under which the four following proposed topics will be discussed and shared via lectures and exhibitions within the congress program.
 
1.     Signals from the Future
2.    Social and Political Reality
3.    Locality and Materiality
4.    Making and Wellbeing.

Organizers
The 49th Congress and General Assembly "2021 Rovaniemi/Posio" is organized by the Arctic Ceramic Centre (ACC) and the International Academy of Ceramics (IAC). The co-organizers are the Ministry of Culture, Aalto University, University of Lapland, Pentik Ceramic Factory, Municipality of Posio, City of Rovaniemi, Rovaniemi Art Museum, Korundi House of Culture, with additional support from other institutions, associations, art galleries and artists. All these supports are significant contributions that will ensure the success of this global ceramic event. The Finnish IAC members have made significant contributions over several years in planning this Congress: both its program and its accompanying events.

Pre- and post-Congress tours
One pre-Congress tour will offer participants the opportunity to become acquainted with the indigenous Sámi culture in Northern Lapland Inari. The Sámi people are the only indigenous people in the European Union region. Another pre-Congress tour will bring participants to the Northernmost Ceramic Village of Posio. Here they will have the opportunity to become familiar with Posio's Arctic nature and its ceramic destinations.

The post-Congress tour will visit the most interesting art and cultural sites and various ceramic studios in Southern Finland. It will feature ceramic and traditional heritage sites located in Helsinki, Espoo, Vantaa and Turku. By far the most beautiful and impressive place on the itinerary will be the old industrial village of Fiskars which is home to many artists.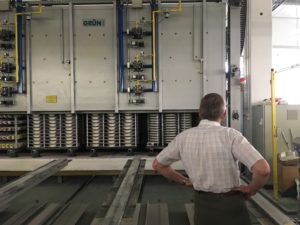 The 49th Congress of the Academy in Rovaniemi is organized by the Arctic Ceramic Center (ACC) and the International Academy of Ceramics (IAC).
(read more...)