Registration, policy and fees
The online registration form to register for the Congress and to book your accommodation in Rovaniemi is not currently available. 

All participants and presenters must register for the event and pay the registration fee.

For further information about the registration, payment and hotel booking, please contact:
 
Rovaniemi-Lapland Congresses
Email: congress@ulapland.fi
Tel. +358 484 4462

Please note that although the registration form is available in English and in French, the Congress office will handle all communication in ENGLISH only.
REGISTRATION FEES/ OTHER FEES  Registration periods may be changed in 2021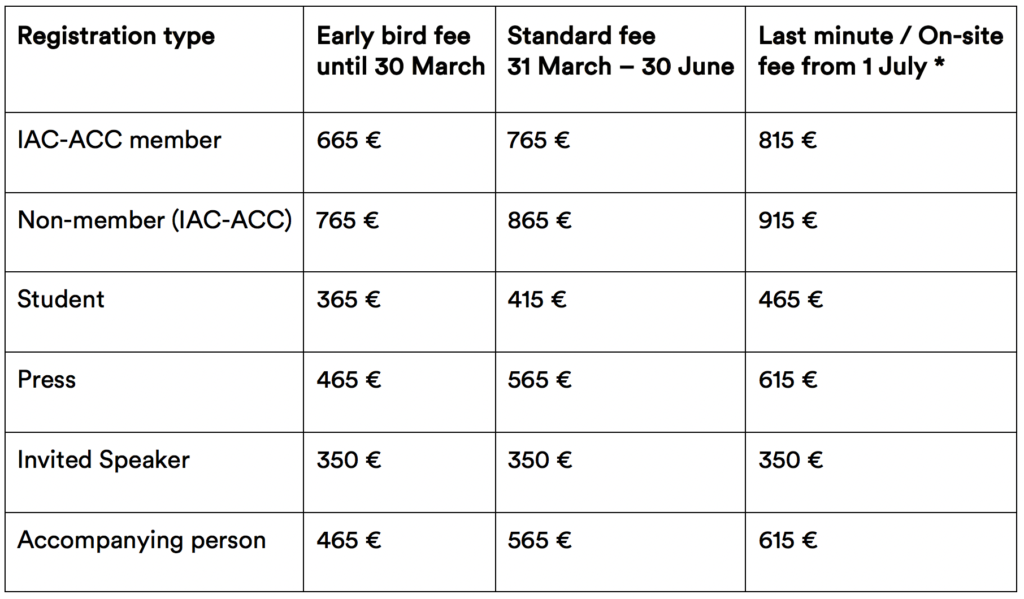 * NB! Please note that online registration is open until the 1st day of the Congress: 27 JULY 2020.
FULL REGISTRATION FEE includes:

Access to all lectures and communication sessions
Lunches and refreshments during breaks mentioned in the program (four days)
Conference material

Welcoming party 

Posio Day

Rovaniemi City reception

UNESCO event

Farewell party

* General Assembly is for IAC members only
---

---

Student registration fee

Valid for students enrolled in the academic year 2019-2020 or 2020-2021 in official centers linked to the theme or the field of the Congress, or private schools with an officially recognised title. Applicants must submit a scanned copy of their registration document or another certificate from their center. A student card is not a valid document.

Press registration fee

The discount is valid for representatives of a press entity related to the theme or the field of the Congress. It can benefit a maximum of two people from each press entity.


One-day passes

These passes will go on sale at a later date, and only if there are places available.

Accompanying persons (spouses, other family members, but not including another participant): 

Participants have to register their accompanying person(s).

This registration includes the same as the full registration, with the exception of access to lectures, as well as lunches and refreshments between lectures, within the Korundi House of Culture.

Some events such as the Breakout Session, the Rovaniemi City reception and the UNESCO Evening are subject to space availability. 

Exhibition catalogue

Online/digital version – 10 € (free for AIC-ACC members)
Printed version – 30 €

---

---
PAYMENTS

All event fees include VAT of 24%. Please note that all payments must be made in advance and in Euros (€).
 
Please choose your payment type on the online registration form. The options are:

Online bank transfer (Finnish banks)
Online credit card payment (Visa, MasterCard, EuroCard, Amex)
Invoice. The invoice will be sent to you separately by the organizing agency Rovaniemi-Lapland Congresses. Please remember to specify the invoicing address on the registration form. Please note that an invoicing fee of 10 € will be added to all invoices.

---

CANCELLATION POLICY

Cancellations must be made by email to the organizing agency Rovaniemi-Lapland Congresses.

The registration fee will be refunded if your cancellation is received before 30 May 2020. No refunds will be made for cancellations received after this date.

Please note that a processing fee of 50 € will be deducted from all refunds.

In the event of a cancellation, the refund will be made within 60 days.

Pre-Congress tours
Minimum 20 persons.

Tour fee (based on sharing a twin/double room) 825 €
Tour fee (based on a single room) 953 €
Superior room supplement (for two nights) 70 €
Optional reindeer farm visit 72 € (minimum 15 persons)

Tour fee (based on sharing a twin/double room) 682 €
Tour fee (based on a single room) 732 €

---

 
Post-Congress tour
Minimum 20 persons.

o  Post-Congress tour to SOUTHERN FINLAND